The National Capital Region (NCR) is a primary industrial belt in the country and a preferred location for occupiers looking to expand their warehouse footprint in North India. Apart from Delhi, the warehouse clusters in the National Capital Region are spread throughout significant industrial hubs along the periphery road networks with convenient access to Punjab, Haryana, Uttar Pradesh, and Rajasthan. Industrial warehousing dominates the landscape as a result of the existence of large-scale manufacturing plants. In addition, numerous e-commerce businesses are also developing a warehouse infrastructure across multiple clusters, ensuring a smooth last-mile delivery mechanism to serve multiple consumer regions.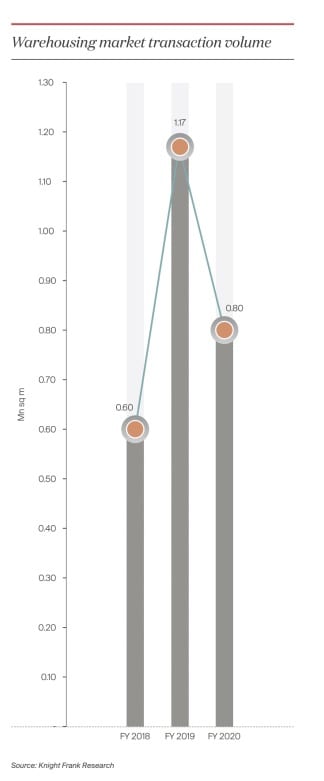 The rise of industry in the NCR is partly credited to its robust transportation network, which is extremely dynamic and diverse due to its various state boundaries and smaller regions. From electronics manufacturing to automobile manufacturing, food processing, and heavy engineering, occupiers from all sectors have developed production facilities in this region, resulting in a boom in warehouse demand. With the systemic changes in warehousing operations following demonetisation and the introduction of the GST, many organised players such as IndoSpace and Embassy Industrial Parks have ventured into the establishment of large industrial and warehousing parks, acquiring large land parcels in peripheral belts.
The 135-kilometre-long NH-48/Kundli Manesar Palwal Expressway (KMP), also known as the Western Peripheral Expressway, was inaugurated in late 2018 and has quickly become a magnet for investors and developers due to its excellent road connectivity to Panipat (NH-1), Kundli (NH-10, Rohtak Road near Bahadurgarh), and Agra (NH-2). These two motorways, along with the Kundli-Ghaziabad-Palwal (KGP) Expressway, completely ring the national capital.
Due to greenfield development along the KMP Expressway, locations such as Farrukhnagar, Bilaspur-Tauru-Sohna Road, and Pataudi-Luhari Road have acquired strategic importance. In the fiscal year 2019, the KMP region accounted for 78 percentage of all warehouse leases in the National Capital Region.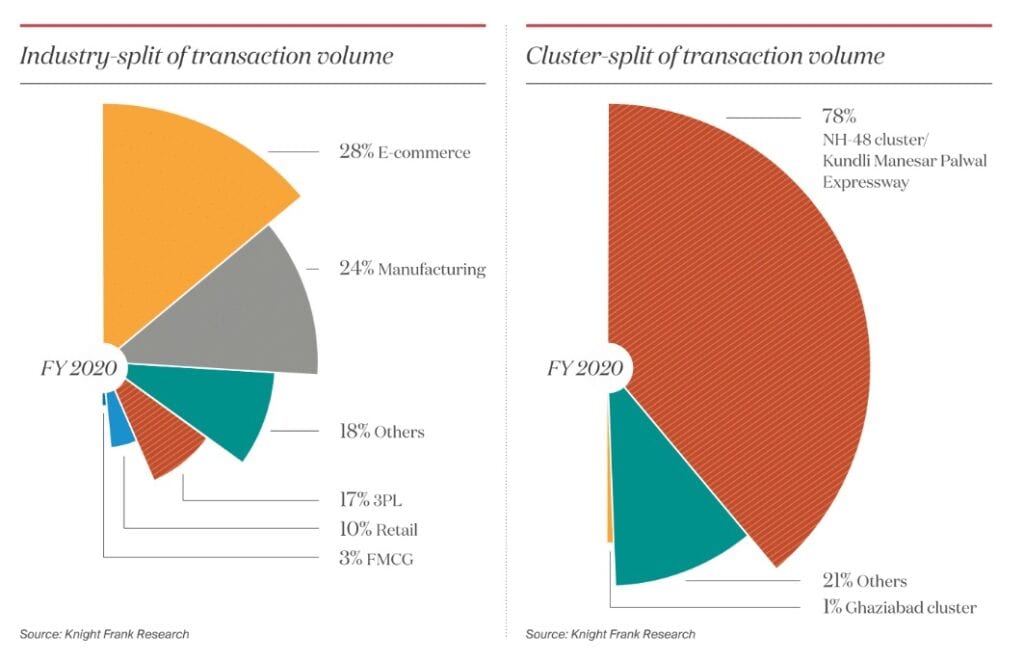 The demand for warehouse space in the National Capital Region was on the rise in FY 2019. However, in FY 2020, it reported a 32% reduction in revenue over FY 2019 due to a lack of quality supplies for expansion, despite strong pre-commitments and a surge in enquiries from e-commerce and logistics firms before the coronavirus pandemic disrupting market dynamics. The E-commerce sector leased 28% of warehouse space in FY 2020, followed by the industrial sector (24 percentage ). Major ecommerce players such as Flipkart and Amazon established warehouses at the KMP's endpoints.
Top Warehouse Occupies in Delhi-NCR
| Occupier | Industry | Warehouse Cluster |
| --- | --- | --- |
| Stellar Value Chain | Logistics | NH - 48/ KMP |
| Rivigo | Logistics | NH - 48/ KMP |
| LG | FMCG | NH - 48/ KMP |
| Flipkart | E-commerce | NH - 48/ KMP |
| Amazon | E-commerce | NH - 48/ KMP |
| Myntra | E-commerce | NH - 48/ KMP |
While abandoned industrial districts and storage centres in the National Capital Region gave way to organised warehousing due to growing urbanisation and the development of new road infrastructure, this is set to change in a post-Covid-19 environment.
Due to interruptions in the flow of vehicles across state borders, demand for warehousing will shift as occupiers rethink their logistics plan. To mitigate the uncertainty surrounding local sourcing, transit time, and transportation availability to distant consumption centres, many occupiers, particularly those in the e-commerce sector, will begin evaluating in-city warehousing opportunities. They will look for particularly in the National Capital Territory of Delhi, which will boost business in locations such as Mohan Co-operative, Mahipalpur, Mathura Road, Samalka, and Okhla.
Demand from the e-commerce market is likely to increase, although for mid-sized facilities along the whole NH-48 corridor, to meet the demand for essential services from Delhi, Gurgaon, Noida, and Greater Noida as other peripheral consumption areas. Additionally, given the uncertainties surrounding the near-term requirement for warehouse space, personnel, and transportation, there will be an increased demand for 3PL services.
In the future, the KMP cluster in Haryana will continue to attract significant interest from occupiers and developers alike, owing to its optimal location to fulfil consumption demand in Gurgaon and other Tier II towns in the event of another Covid-19-like scenario. Additionally, with numerous Japanese, European, US-based, and Korean enterprises planning to relocate production facilities outside of China, this warehouse cluster will generate considerable attention due to the availability of enormous land tracts. On the other hand, land prices are projected to drop in the aftermath of the current demand downturn.
Land Rents and Warehouse Rents in Delhi/NCR
Warehouse Cluster

Location

Land Rate (INR md/acre)

NH - 48 Cluster / KMP Cluster

NH 48 (Gurugram - Binola)

20 - 25

Pataudi Road

10 - 25

Jamalpur - Panchgaon

17 - 25

Bilaspur - Tauru - Sohna Road

11 - 25

Dharuhera

15 - 25

NH 71 - Kulana

10 - 15

Badli

13 -15

Farrukhnagar

13 - 20

Ghaziabad Cluster

NH 91 (Dadri) & NG 24 (Hapur)

18 - 25

Other Cluster

Greater Noida

20 - 30

Faridabad

18 - 28

Sonipat

17 - 25
Looking to rent a warehouse in Delhi/NCR?
References – https://content.knightfrank.com/research/2015/documents/en/india-warehousing-market-2020-indian-real-estate-residential-office-7280.pdf