Compared to the previous year, transaction activity in the Hyderabad industrial and warehousing market was relatively low in FY 2020. Total absorption declined 14% year over year, from 4 million square feet in FY 2019 to 3.4 million square feet in FY 2020. Lack of quality supply, along with a nearly double-digit increase in transaction activity in FY 2019 that established a high comparable base for FY 2020, are the primary drivers of this slight decline in transaction volumes.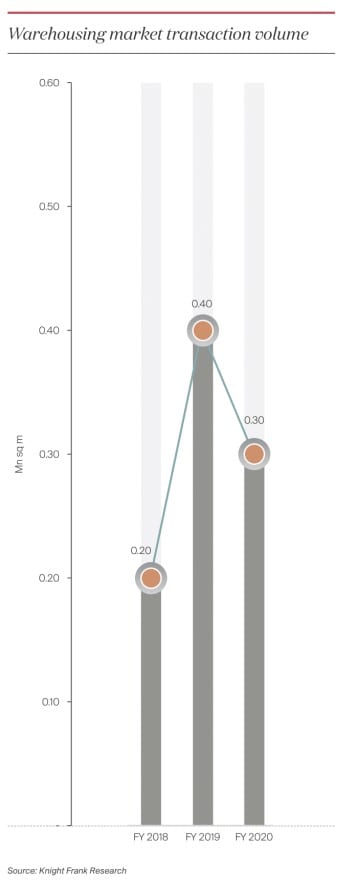 While demand remained strong, the scarcity of Grade A warehouses limited the number of transactions in FY 2020. Additionally, FY 2019 was a fantastic year, with Hyderabad warehouse activity nearly doubling from 2.3 million square feet in FY 2018 to 4 million square feet in FY 2019. This surge in activity last year reflected the expanding demand for and penetration of e-commerce in Hyderabad, which was met by the influx of new supply. By FY 2020, the market had stabilised and reached 3 million square feet of activity. While 3 million square feet of transactions indicates a healthy market, the high base of FY 2019 casts doubt on the otherwise stable growth numbers for FY 2020.
Top Warehouse Occupiers in Hyderabad
| Occupier | Industry | Warehouse Cluster |
| --- | --- | --- |
| Stellar Value Chain | 3PL | Medchal |
| Reliance Retail | Retail | Medchal |
| Flipkart | E-commerce | Patancheru |
| Amazon | E-commerce | Medchal |
| Big Basket | E-commerce | Medchal |
Hyderabad dubbed the 'city of pearls' due to its once-thriving pearl industry, is predominantly a market driven by information technology/information technology-enabled services (IT/ITeS). Due to the city's minimal industrial presence, the basis of the warehousing sector is end-user driven consumption categories. Due to the robust IT employment market and the record growth in office market transactions in recent years, Hyderabad's consumer base is expected to expand, which will boost the city's warehousing activity.
E-commerce, retail, and the Fast Moving Consumer Goods (FMCG) / Fast Moving Consumer Durables (FMCD) industries are the primary drivers of the warehousing sector in Hyderabad. In FY 2020, these industries alone accounted for more than 50% of total transacted space in the city.
Additionally, with a few large e-commerce and fast-moving consumer goods (FMCG) companies preferring to outsource their logistics and warehousing operations, the percentage of 3PLs in total industry split transactions increased to 31% in FY 2020.
Hyderabad's warehouse activity is mainly centred in three major clusters. The Medchal cluster is located north of Hyderabad on the Hyderabad-Nagpur route; the Patancheru cluster is situated west of Hyderabad on the Mumbai-Hyderabad highway, and the Shamshabad cluster is situated south of Hyderabad on the Bengaluru-Hyderabad highway.
Among the three, the Medchal cluster accounted for a sizable 87 percent of FY 2020 transaction activity. This cluster's established ecosystem, superior distribution connectivity to the city's consumption hotspots, and lower real estate costs than the Patencheru cluster have made it a favourite across many industries.
Land Rates and Warehouse Rents in Hyderabad
Rental rates increased across the three storage clusters, while land values increased by over 100% in some parts of the city. Obtaining clear and contiguous titled lands at reasonable prices for this sector remained a concern. Individually owned and operated warehouses continue to account for a sizable percentage of the Hyderabad warehousing business. However, with the entry of major firms like ESR, GMR, and others into the industry, the city appears to be on the verge of dominating organised storage.
Warehouse Cluster

Location

Land Rate (INR mn/acre)

Medchal Cluster

Medchal

14 - 28

Devaryamjal - Gundlapochampally

14 - 28

Kandlakoya

14 - 28

Yellampet

14 - 28

Shamirpet

14 - 28

Patancheru Cluster

Patancheru Industrial Area

12 - 45

Rudraram

12 - 45

Pashamylaram

12 - 45

Edulanagulapally

12 - 45

Sulthanpur

12 - 45

Shamshabad Cluster

Aerotropolis

12 - 25

Srisailam Highway

12 - 25

Bongloor

12 - 25

Kothur

12 - 25

Shadnagar

12 - 25
Looking to rent a warehouse in Hyderabad?
Looking for 3PL services in Hyderabad?
Stockarea provides end-to-end warehousing services in Hyderabad from Customs Clearance to Last-Mile Delivery. 
Contact us today and get a free warehouse solution report today.
References – https://content.knightfrank.com/research/2015/documents/en/india-warehousing-market-2020-indian-real-estate-residential-office-7280.pdf