The Goods and Services Tax (GST) implementation in the Bengaluru Metropolitan Region's (BMR) periphery has facilitated the steady transformation of the warehousing industry, with companies in the e-commerce and logistics sectors spearheading rampant expansion activities due to customer demand growth and parallel warehouse supply side augmentation.
Due to their proximity to Mumbai and Chennai, the Nelamangala-Dabaspete cluster in the city's northwest and the Hoskote-Narsapura cluster in the city's east, both along the National Highway (NH)-48, are prime warehouse clusters and have been occupiers' favourite for expansion.
Bengaluru's warehousing business leased 4.30 million square feet (0.40 million square metres) in FY 2020, a 23 percentage year-on-year (y-o-y) decline from FY 2019 as many marquee deals were closed in FY 2019. Developers have been venturing into Bengaluru's influential clusters with land allocation for greenfield projects as the warehousing industry has consolidated. Although regional developers continued to look for large land parcels on which to construct industrial parks, several new trends have emerged in the aftermath of the Covid-19 outbreak, which will reshape warehouse space use and adoption across industries over the next 12-18 months.
The Covid-19 pandemic and subsequent lockout placed businesses in all industries to the test, disrupting supply chains that had been strategically put in place to minimise operating and logistics costs following the GST implementation. In a few cases, e-commerce players in Bengaluru have begun looking for ways to sublease or renegotiate with warehouse space providers because they are unable to use surplus warehouse space(s).
Top Warehouse Occupiers in Bangalore
Occupier

Industry

Warehouse Cluster

Amazon

E-commerce

Devanahalli Hardware Park

Flipkart

E-commerce

Thalli Road

D-Mart

Retail

Nelamangala-Dabaspate

Dellhivery

Logistics

Nelamangala-Dabaspete

DHL

Logistics

Attibele
Source: Knight Frank Research
Many businesses are scouting for in-city warehouses as part of their contingency planning for potential events like Covid-19 so that their reliance on fulfilment centres for supply can be decreased without affecting deliveries. E-commerce players could be compelled to invest in mid-sized and multi-story warehouses closer to consumption centres as demand for groceries and critical services grows.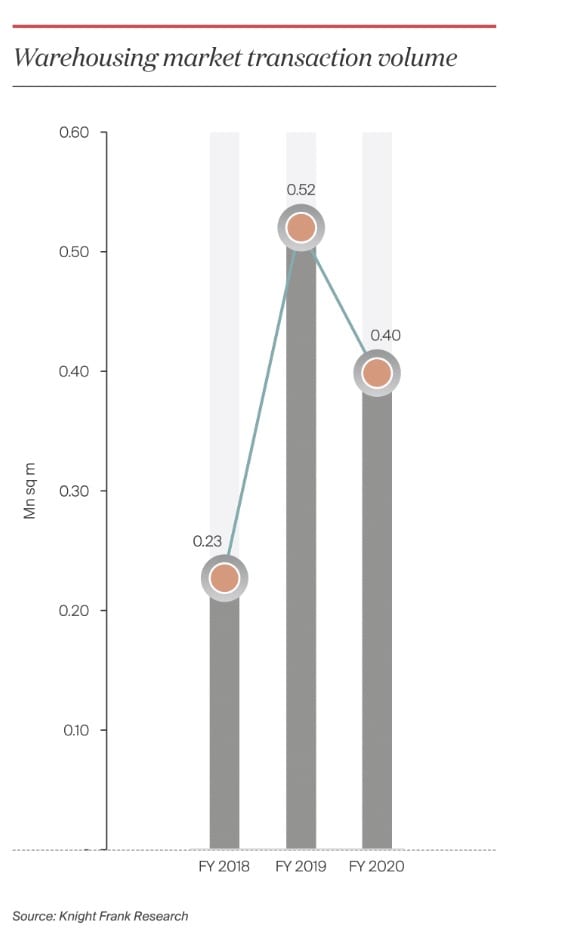 We also expect stocking levels to rise, resulting in a higher demand for warehousing, especially in the essential services segment, such as food and beverage, groceries, and pharmaceuticals. Investment in warehouse automation would lead to the implementation of automated driven vehicles (AMVs) or robots in distribution hubs, reducing the risk of human interaction and limiting infection in the workforce. In early 2019, a leading e-commerce company began deploying 100 robots in one of its facilities on the outskirts of Bengaluru for operational efficiencies, and we can expect more companies to follow suit in this new scenario.
Additional warehouse requirements are expected to emerge from electronics, FMCG, and FMCD companies on both the Nelamangala-Dabaspete and Hoskote-Narsapura clusters, as many will be relocating their headquarters outside of China and exploring Bengaluru's outskirts on existing warehouse clusters.
Land Rate and Rents in Bangalore
Rents have largely remained stagnant in FY 2020, and due to current changes in existing warehouse space use, no rental growth is anticipated. In reality, as a result of the lockdown, the upcoming warehouse supply will have to be postponed, lowering rents in the Nelamangala-Dabaspete and Hoskote-Narsapura warehouse clusters. The form of products sold in the current environment would have an effect on warehouse space demand over the next 12-18 months. Along with e-commerce, FMCG, electronics, and 3PL occupiers would be key drivers of leasing in the future.
Warehouse Cluster

Location

Land Rate (INR mn/acre)

Nelamangala - Debaspete Cluster

Nelamangala

15-20

Debaspete

16-20

Hoskote - Narsapura Cluster

Hoskote

14-18

Narsapura

11-16

Attibele - Bommasandra Cluster

Attibele - Anekal Road

18-28

Others

Malur

12-18

Soukya Road

20-30

Bidadi

20-30
Source: Knight Frank Research
Looking for Warehouses in Bangalore?