Pune is Maharashtra's second-largest city in terms of population and economic activity, after Mumbai. Manufacturing and consumption, which includes e-commerce, FMCG/FMCD, and retail, are the two key drivers of storage space need in Pune. The Maharashtra Industrial Development Corporation (MIDC) has built three significant manufacturing clusters in Pune: Chakan, Talegaon, and Ranjangaon.
Chakan MIDC has developed into a mature manufacturing and industrial centre known as Maharashtra's "auto hub!" Due to Chakan's thriving manufacturing environment and established support network, new entrants are eager to relocate here despite the cluster's expensive leasing rates. The warehouse space now available in Chakan is mainly used to service the in-house/captive needs of Chakan MIDC manufacturers. The high land price in Chakan is putting higher pressure on warehouse rents, making the cluster unviable for traditional warehouse tenants catering primarily to the city's consumption needs.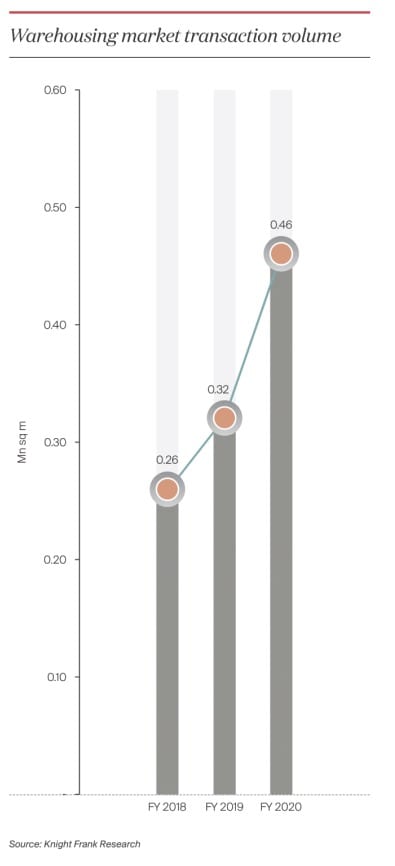 Talegaon has developed as an appealing area for storage and industrial leasing due to Chakan's high land prices.
Talegaon is 35 kilometres from Pune but has an excellent connection via NH-48. Talegaon has enormous potential to expand in the same manner as Chakan. The cluster benefits from the strong utility infrastructure, high-quality 2×2 lane highways with dividers, and great connectivity to Mumbai's port via the Mumbai-Pune expressway. Chakan and Talegaon MIDCs are combining into a single cluster as a result of the growth of Chakan MIDC. Once these clusters converge, we anticipate an upward impact on Talegaon rental prices.
Ranjangaon MIDC is home to several significant manufacturing firms. The cluster has the best infrastructure among the three MIDCs, with three-lane main highways with dividers and two-lane internal roads. Additionally, the roadways are designed to be widened in the future without the requirement for land acquisition. Ranjangoan faces the same issues as a typical emerging industrial cluster in India, such as personnel, labour unions, reliable power supply, connectivity, and security. Nonetheless, these difficulties are being addressed.
Ranjangaon is 58 kilometres from Pune; it takes more than two hours to get to Pune and 1.5 hours to get to Chakan. Land costs and rental rates are lower than in Chakan and Talegaon, and the cluster is well-suited for industrial and manufacturing activity. This cluster has a small fraction of consumer demand.
Top Warehouse Occupier in Pune
| Occupier | Industry | Warehouse Cluster |
| --- | --- | --- |
| Amazon | E-commerce | Chakan - Talegaon warehousing cluster |
| DHL | 3PL | Chakan - Talegaon warehousing cluster |
| First Cry | E-commerce | Chakan - Talegaon warehousing cluster |
| Whirlpool | FMCD | Ranjangaon warehousing cluster |
| KSH Logistics | 3PL | Chakan - Talegaon warehousing cluster |
The total demand for storage space from the e-commerce segments has increased over the years and was boosted further by the lockdown; however, their leasing strategy has shifted in recent months, with businesses increasingly seeking short-term contracts. Businesses are considering realigning their supply chains to include numerous small fulfilment centres located across the city rather than relying on a single warehouse to serve the entire city in the future. 
In the fiscal year 2020, the Pune warehouse market saw leasing volumes of 4.91 million square feet, a 42 percent increase over the fiscal year 2019. The 3PL, e-commerce, and manufacturing segments all contributed to this growth.
Land Rate and Warehouse Rent in Pune
Given the low vacancy rate, rental rates remained steady and increased in line with the typical contractual rise. Rents will continue to decline in the future because of decreasing demand caused by the Covid-19 induced economic slowdown
Warehouse Cluster

Location

Land Rate (INR mn/acre)

Chakan - Talegaon Belt

Chakan

18 - 23

Talegaon

18 - 24

Wagholi - Ranjangaon belt

Lonikand

15 - 20

Chakan - Shikrapur Road

12 - 16

Sanaswadi

12 - 15

Ranjangaon MIDC

18 - 20
Looking to rent a warehouse in Pune?
Stockarea helps you find the right rental warehouses in Pune for your needs. Stockarea also provides end-to-end warehousing services in Pune from Customs Clearance to Last-Mile Delivery. 
Contact us today and get a free warehouse solution report today.
References – https://content.knightfrank.com/research/2015/documents/en/india-warehousing-market-2020-indian-real-estate-residential-office-7280.pdf