The industrial and manufacturing segments have been the primary drivers of warehousing demand in Ahmedabad, followed by retail demand. However, the rapid growth of e-commerce in recent years has elevated it to a significant occupier market.
| Warehousing Cluster | Major Warehousing Locations |
| --- | --- |
| Asali - Kheda Cluster | Asali, Jetalpur, Bareja, Kanera, Gobhalaj, Hariyala, Kheda |
| Changodar - Bagodara Cluster | Changodar, Bavla, Bhayala, Bagodara |
| Sanand - Viramgam Cluster | Sanand, Sachna, Viramgam |
| Kadi - Vithalapur - Becharaji Cluster | Kadi, Vithalapur, Becharaji |
Ahmedabad is divided into four major warehouse clusters: Aslali-Kheda, Changodar-Bagodara, Sanand-Viramgam, and the Kadi-Vithalapur-Becharaji belt. The Aslali-Kheda and Changodar-Bagodara belts are more developed and larger clusters. The Sanand-Viramgam and Vithalapur-Becharaji belts have gained prominence as automobile hubs have developed in each of these regions.
The Aslali-Kheda belt, which runs alongside the three-lane Mumbai-Ahmedabad highway, is one of the city's oldest warehousing clusters. Retail/consumer demand is the primary driver of warehousing demand in this belt. Due to the land prices and the extension of the Ahmedabad municipal limits, it is no longer economically feasible to establish a new facility in the Aslali-Jetalpur belt. Warehouses in this area are more than 15-20 years old and lack modern amenities; additionally, the majority of supply is owned by local landowners. The Bareja-Kheda belt has higher-quality warehouses, and land prices along this route are lower than those along Aslali-Jetalpur.
The Changodar-Bagodara belt is an industrial area, with the manufacturing sector accounting for the lion's share of warehousing demand, followed by e-commerce. This belt features high-quality three-lane roads separated by dividers. The expansion of Ahmedabad's civic limits to Changodar and the resulting rise in land prices have rendered the establishment of a new warehousing facility economically unviable. The land prices between Bavla and Bagodara are lower, which is advantageous for building a new warehouse facility. Numerous pharmaceutical companies and many large industries have manufacturing facilities in the Changodar-Bagodara belt, and the region provides an established ecosystem that manufacturing companies need. Numerous logistics and warehousing park developers are involved in this area, and the pioneers have already constructed a fully operational modern warehousing facility.
Top Warehouse Occupiers in Ahmedabad
| Occupier | Industry | Warehouse Cluster |
| --- | --- | --- |
| Amazon | E-commerce | Changodar - Bagodara Cluster |
| Delhivery | 3PL | Changodar - Bagodara Cluster |
| CMR | Manufacturing | Kadi - Vithalpur -Becharaji Cluster |
| Johnson Controls - Hitachi Air Conditioning India | Manufacturing | Kadi - Vithalpur -Becharaji Cluster |
| Suntara Cosmetics | FMCG | Asali - Kheda Cluster |
| Panasonic | Consumer Durables | Asali - Kheda Cluster |
| Udaan Express | 3PL | Asali - Kheda Cluster |
| Flipkart | E-commerce | Changodar - Bagodara Cluster |
Sanand-Viramgam and Kadi-Vithalapur-Becharaji belts are two of India's upcoming car hubs. Several of the world's largest car manufacturers, as well as their ancillary businesses, have manufacturing facilities in these hubs. The car industry accounts for the majority of the warehousing demand in this cluster. Several of the warehouses in this belt also serve agricultural customers. In FY 2020, the Kadi-Vithalpur-Becharaji cluster accounted for 40% of warehousing transactions.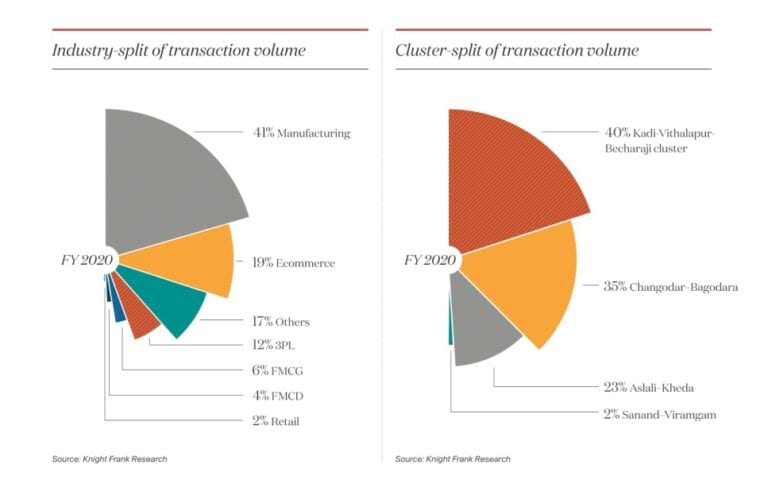 In FY 2020, Ahmedabad's warehousing industry leased 5.1 million square feet (0.47 million square metres), a 4.6 percentage year-on-year (YoY) increase over FY 2019. Manufacturing and e-commerce were the fastest growing segments. Although warehouse developers continue to scout for large land parcels on which to construct industrial parks, many of the previously listed developments have come to the fore in the aftermath of the Covid-19 outbreak, redefining warehouse space use and adoption across sectors over the next 12-18 months.
Rents have largely remained steady, and we do not anticipate any rental growth in the near future as a result of current changes in the use of available warehouse space and future demand patterns. Going forward, manufacturing-led demand is expected to remain low due to the Covid-19 effect; however, the increase in demand from e-commerce and third-party logistics is likely to compensate.
Land Rate and Rents in Ahmedabad
Warehouse Cluster

Location

Land Rate (INR mn/acre)

Aslali - Kheda

Aslali

20-25

Bareja

15-10

Kanera

15-20

Gobhlaj

12-15

Kheda

10-15

Changodar - Bagodara

Changodar

20-25

Bavla

12-16

Bhayala

8-12

Bagodara

8-9

Sanand - Viramgam

Sanand

20-25

Sachana

10-15

Vithalapur- Becharaji

Kadi

12-15

Vithalapur

8-10

Becharaji

9-13
Looking for Warehouses in Ahmedabad?
Stockarea helps you find the right Warehouse in Ahmedabad for your needs. Stockarea provides end-to-end Logistics Services from Customs Clearance to Last-Mile Delivery. 
Contact us today and get a free warehouse solution report today.