Mumbai Metropolitan Region (MMR) is India's financial hub and one of the country's major cities by population. The city is India's most significant and largest consumer market.
There are three primary drivers of warehousing demand in Mumbai: e-commerce and retail, export-import (EXIM), and manufacturing. While manufacturing demand has decreased in recent years, it is consumer demand, fueled by e-commerce and third-party logistics (3PL), that has been driving the warehouse business in Mumbai.
Top Warehouse Occupiers In Mumbai
| Occupier | Industry | Warehouse Cluster |
| --- | --- | --- |
| DHL | 3PL | Bhiwandi warehousing cluster |
| Citi Solutions | 3PL | Bhiwandi warehousing cluster |
| Flipkart | E-commerce | Bhiwandi warehousing cluster |
| Tulsi Global | 3PL | Bhiwandi warehousing cluster |
| Reliance Retail | Retail | Bhiwandi warehousing cluster |
| Amazon | E-commerce | Bhiwandi warehousing cluster |
| Spoton | 3PL | Bhiwandi warehousing cluster |
The Bhiwandi warehousing cluster is geographically placed at the intersection of Mumbai, Navi Mumbai, and Thane, making it a perfect site for meeting consumer demand. The majority of warehouses in Bhiwandi, however, are older and lack modern amenities. Additionally, the roadways are narrow and congested, frequently gridlocked with traffic. Bhiwandi is undergoing a gradual transformation into an affordable housing location, and the forthcoming metro line, Thane-Bhiwandi-Kalyan, will highlight this transformation.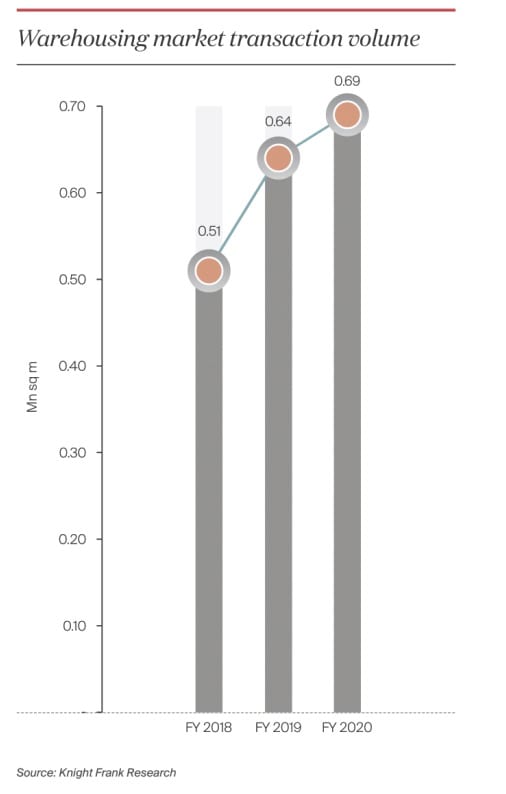 The warehouses leaving Bhiwandi are being relocated along the Mumbai-Nashik route NH-3, which features a high-quality two-lane road with a divider. This road parallels the Thane-Bhiwandi Road and gives a more direct route to the MMR. This highway is currently being widened to accommodate rising traffic volumes. Along NH-3 and on the Kalyan-Sape Road, which connects NH-3 to Kalyan, higher-quality warehouses are sprouting up. Lonad, Usroli, Vashere, Vadape, Amane, Sawad, and sites before the Padgha toll booth are also rising locations. A few warehouse developers are also hunting for land adjacent to the Padgha toll booth, taking advantage of the region's low land prices.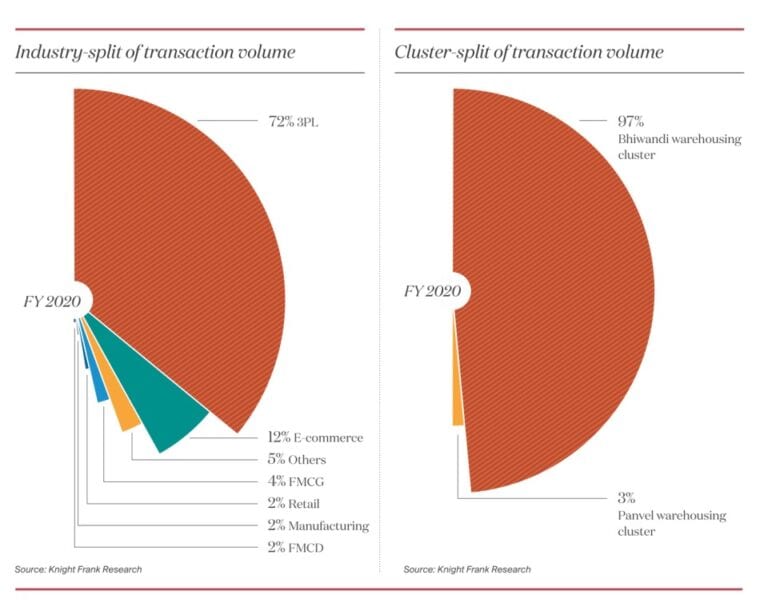 Due to its closeness to India's largest port, JNPT, the Panvel warehousing cluster mostly serves EXIM demand. Despite having a superior infrastructure to Bhiwandi, the Panvel warehousing cluster could not absorb Bhiwandi's consumption demand. This is because Bhiwandi has a well-established ecosystem for warehousing activities in terms of auxiliary services, which are scarce in the Panvel cluster.
Additionally, most markets inside the Panvel storage cluster have bonded warehouses and operate on the pallet system, which is more advantageous for occupiers fulfilling EXIM demand. Local issues exist in the Panvel warehouse cluster that occupiers must resolve, whereas in Bhiwandi, landlords often manage local issues and add the cost to the occupancy cost.
In FY20, Mumbai's storage industry leased 7.52 million square feet, an increase of 8% year on year over FY19. The 3PL and FMCD (Fast Moving Consuming Durable) categories drove this growth.
Land Rent and Warehouse Rent in Mumbai
Rents have mostly stayed consistent, and we do not anticipate a significant rental rise in the near future due to current adjustments in the utilisation of existing warehouse space and future demand trends. Indeed, as a result of the lockdown, there would be downward pressure on rental rates, as occupants would likely seek better contractual terms, citing decreased demand.
Warehouse Cluster

Location

Land Rate (INR mn/acre)

Bhiwandi Warehousing Belt

Vadpe

23 - 28

Padgha

18 - 25

Vashare/Sape

20 - 25

Lonad

17 - 20

Sonale

25 - 30

Yewai

25 - 30

Borivali Tarf Sonale

15 - 18

Dhole

15 - 17

Kosambi

15 - 18

Panvel warehousing belt

Palaspe - Goa Road

25 - 30

JNPT

16 - 25

Taloja

20 - 40

Patalganga

16 - 25
Looking to rent a warehouse in Mumbai?
Stockarea helps you find the right rental warehouses in Mumbai for your needs. Stockarea also provides end-to-end warehousing services in Mumbai from Customs Clearance to Last-Mile Delivery. 
Contact us today and get a free warehouse solution report today.
References – https://content.knightfrank.com/research/2015/documents/en/india-warehousing-market-2020-indian-real-estate-residential-office-7280.pdf