Amazon and Walmart are multinational companies that provide e-commerce and retail shopping services globally. Amazon dominates the online shopping sphere, and Walmart dominates retail commerce. However, both companies are competing for a foothold on the other's turf. Amazon is emerging in the retail market, while Walmart is gaining prominence in the e-commerce sector. Amazon and Walmart's competition is more intense than ever due to their enormous success in both retail and e-commerce.
Amazon is favoured by consumers for its ease of use and its vast selection, whereas Walmart is a local favourite due to its inexpensive prices and individualised services. Both of these companies are competing to become superior in the shopping industry. Thus, let us compare the two industry giants, Amazon and Walmart and analyse the various segments in which they compete.
Walmart and Amazon have an extensive product selection, offering a vast range of products in various categories, including groceries, furniture, cosmetics, books, stationery, electronics, and household supplies. Walmart and Amazon also have their own line of products under different categories. Amazon has over 40 exclusive labels under its name, while Walmart owns more than 50 brands. Amazon and Walmart are competing head-to-head, with customers having the option of purchasing their preferred products from either company.
Amazon clearly outperforms Walmart in prioritising customer feedback. Amazon is well-known for its customer-centric culture and business-wide emphasis on superior customer experience. Amazon places a high priority on better superior customer service and has an easy return policy, both of which contribute to the quality of the customer experience. Amazon offers multiple delivery options, discounts, rewards, and affiliate marketing programs, making its online shopping experience superior to Walmart's.
Walmart has demonstrated more outstanding sustainability efforts than Amazon. For instance, it uses 100% renewable energy to power its retail stores and purchases goods from manufacturers that employ sustainable practices. Walmart has always been more forthcoming about its carbon footprint and has invested in programmes to reduce carbon emissions. Amazon produces a great deal of packaging waste and has only recently disclosed its carbon emission numbers, despite its efforts to become more environmentally friendly. In terms of sustainability, Walmart is the clear winner.
Amazon has the upper hand when it comes to delivery and shipping products. Amazon provides consumers with unrestricted freedom to select their preferred delivery method with the convenience of selecting their preferred time, mode of communication and alternate delivery locations. Amazon's sales skyrocketed with the introduction of same-day and next-day delivery. Moreover, Amazon has 185 fulfilment centres around the world, whereas Walmart has 31 dedicated ecommerce fulfilment centres, making Amazon's delivery significantly more efficient and fast. Amazon also provides multi-channel fulfilment, allowing sellers to utilise Amazon FBA for sales on e-commerce channels other than Amazon. Amazon has recently received FAA approval for its long-awaited delivery drone, which is capable of delivering packages in 30 minutes or less.
5. International Presence
Amazon has a significantly larger international presence, being available in nearly 180 countries and accounting for about 13% of global e-commerce sales. Walmart is only available in 28 countries worldwide and has approximately 11,300 stores. Amazon's predominance in e-commerce has allowed it to reach a larger audience worldwide. In addition to domestic shipping, Amazon offers international shipping, allowing customers to purchase from Amazon's international website. Amazon plans to improve their global distribution to reduce costs and make international shopping more convenient,fast and affordable.
The user interface is essential for retaining customers and boosting sales through a satisfying online shopping experience. Although the online interfaces of Amazon and Walmart are relatively similar, Walmart's website is significantly more effective in terms of usability. For instance, Walmart's search bar is more conveniently placed at the top of the screen and is centred, increasing its reachability. 
Walmart's search results are presented in a more user-friendly way, with price comparisons presented first and then the product listings. So it's more straightforward for users to search on a single page instead of opening multiple tabs, as in the case of Amazon. Walmart's most utilised filters are conveniently located at the top-right, directly under the search bar. Amazon offers a variety of filters on the left side of the screen and a filter to sort by price range and relevancy at the top of the page. Placing filters in the left corner reduces accessibility; therefore, consumers frequently use the filters in the upper right corner, which may not produce the desired results. Hence, Walmart's UI is better in terms of accessibility and ease of use compared to Amazon's.
Amazon and Walmart have strived to enhance their services by incorporating innovative technological solutions. Both companies employ modern technology and creative methods to improve customer experience. Walmart, for example, has redesigned its store layout to make it easier for customers to locate products and placed digital kiosks to simplify the in-store shopping process. Another notable innovation of Walmart is the Alphabot system that allows Walmart to automate its grocery delivery service and transform more of its stores into fully automated fulfilment centres, thereby compensating for its lack of delivery facilities.
 Amazon has been doing wonders with technological innovations, particularly in their retail stores, by implementing self-checkout through digital carts(cashier-less checkout), pick-up and walk-out (auto-billing), which work based on IoT sensors, turning their stores in smart stores.  In terms of innovation and employing modern technology to make operations more efficient, Amazon and Walmart have head-to-head competition.
Amazon is rapidly expanding its offline retail presence and currently has nearly 600 retail locations across the globe. However, Amazon's efforts to build a physical retail image are in no way comparable to Walmart's already established retail presence. More than 80% of Walmart's revenue is generated through offline retail, while only 18% of Amazon's revenue is through its retail stores. As a result, Walmart continues to dominate the offline retail industry.
Amazon Prime and Walmart+ are the subscription services offered by Amazon and Walmart, respectively. Amazon Prime benefits include free shipping, same-day delivery, early access to sales, cashback and reward points. Walmart's benefits include free delivery and shipping with no minimum order value, a rewards program, and contactless checkout, where customers can use their mobile devices to scan the products. Walmart's subscription model is restricted to US and Canadian consumers, while Amazon Prime is available worldwide. Amazon Prime surpasses Walmart+ in terms of value-added services it offers and global availability.
Finding low-priced products on Amazon and Walmart depends on the product category. Walmart is renowned for offering affordable groceries, kitchenware, and household goods. At the same time, Amazon provides good deals on electronics, home appliances, and apparel. Both amazon and Walmart  hold sales during festive and holiday season where they offer massive discounts on a huge selection of products.Consumers can find inexpensive and good-quality products on both Amazon and Walmart.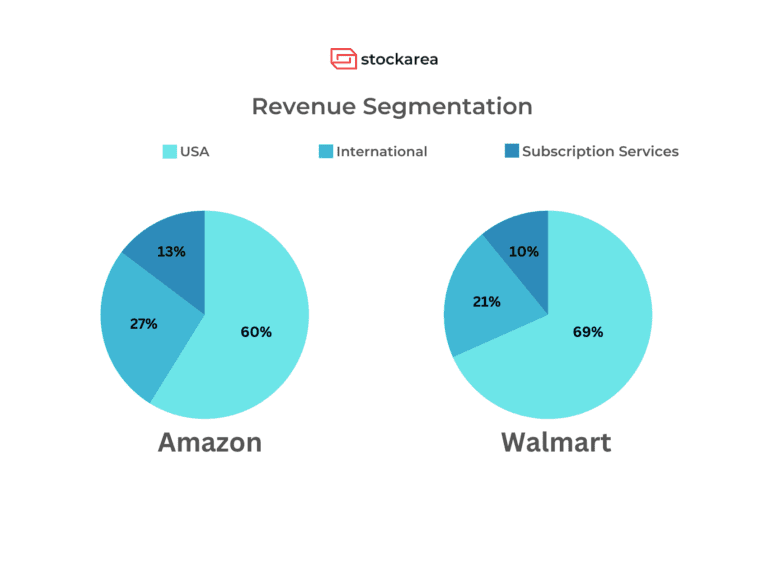 Walmart's revenue for the last fiscal year was approximately 572.8 billion USD, while Amazon's revenue was about 469.8 billion USD. Amazon's revenue increased by 9.4% compared to the prior fiscal year, while Walmart's revenue increased by 2.43 %. Amazon and Walmart generate the majority of their revenue from their US consumer base, with Walmart's international revenue totalling upto 120.8 billion USD, representing just 21% of its total revenue, and Amazon's international revenue totalling upto 126.8 billion USD, representing 27% of its total revenue.
Amazon beats Walmart in profitability
 Amazon dominates the e-commerce market with over 9 million sellers and 1.5 million active sellers on its marketplace. Over 82% of these sellers are third-party sellers. Amazon's sales have skyrocketed in both the e-commerce and retail industries.Amazon's net income is greater than Walmart's. In the last fiscal year, Amazon's net income was approximately 33.36 billion USD, while Walmart's was 13.67 billion USD. Amazon has a higher net income because most of its sellers are third-party sellers. These sellers do the majority of the processing and order fulfilment, while Amazon only leases Inventory space for them. Employing third-party sellers decreases Amazon's expenditures, thereby increasing the company's net income.
How will the battle between Amazon and Walmart turn out?
Based on the analysis of the metrics mentioned above, Amazon is winning the battle to become the largest retailer in the world. With its superior customer service and e-commerce dominance, Amazon will continue to be the most popular e-commerce platform and also advance in the physical retail market. Amazon may also beat Walmart in revenue in the coming years with its increasing growth rates. However, Walmart will retain its position in retail commerce as Amazon primarily operates online. The rivalry between these two retail giants will be inevitable. Amazon and Walmart will continue to mirror and compete with each other's business strategies.
The actual winner is the consumer, who is greatly benefiting from this interminable competition. As the two brands compete for dominance in the retail industry, customers benefit from superior customer service, increased innovation, and an expansion of product offerings. Amazon and Walmart are undoubtedly altering the retail landscape and encouraging each other's continued growth and development.