India's logistics market is expected to expand at an annual compounded growth rate of 8% over the next five years, reaching USD 330 billion by 2025. This expansion will be supported by several factors, including the fast-developing Ecommerce industry, impending technical advancements, and an expanding retail sales market.
In 2021, India's intercity logistics expenditure was USD 209 billion, accounting for approximately 87 percent of overall logistics expenditure. The on-demand/spot market accounted for 63% of total spending, while the contract market accounted for 37%. Metro cities accounted for as much as 40 percent, or USD 84-billion of the total inter-city logistics spend of USD 209 billion.
India's freight business has a massive spot market, with USD 120-130 billion in annual trade value expanding at a rate of 9-10 percentage. Agriculture accounts for 25% of the entire spot market. Due to their modest production quantities and drop sizes, MSMEs operate on the spot market, accounting for 25% of total truck bookings. The remaining 50% is driven by large manufacturing enterprises that reserve FTL trucks on a spot basis.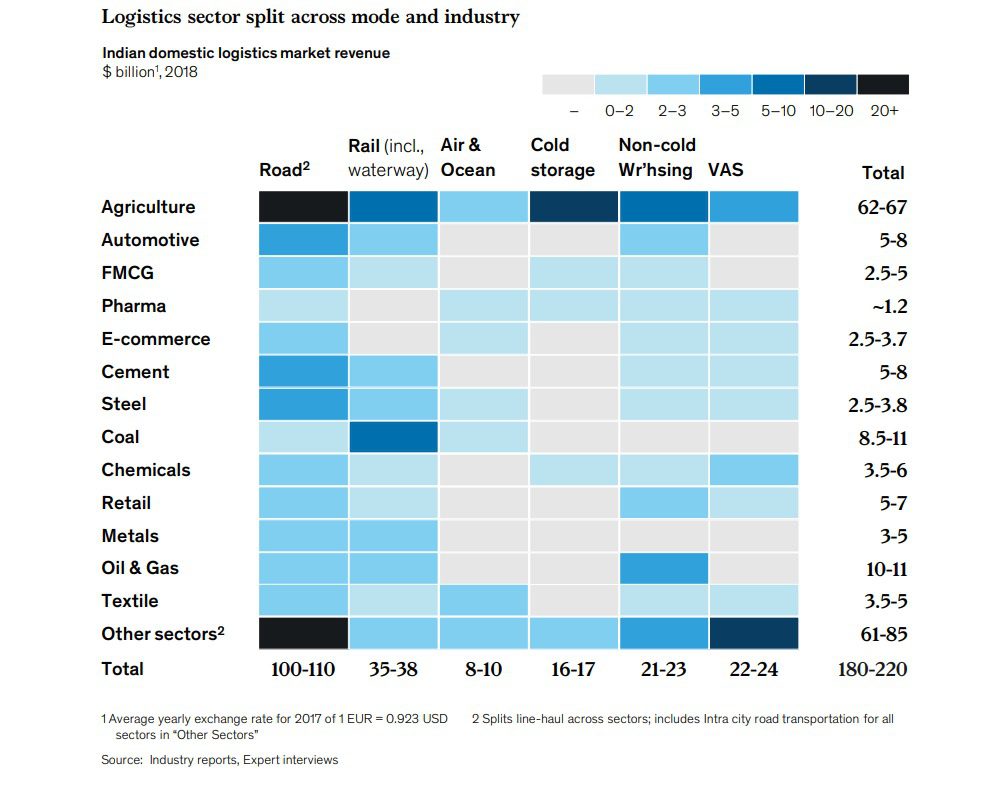 Key Actors In Logistics Sector
1. Shipper
The end customer or shipper provides a load that is transferred on a daily basis. They could be manufacturers, traders, distributors, or any other party that owns the transported items. Shipments are provided with their tonnage, preferred truck type, loading and unloading location(s), an estimated freight rate, and loading instructions.

2. Transporter
The transporter undertakes all financial and operational risks associated with transporting the items from the loading site to the unloading location. He is accountable for truck placement, documentation, payments, tracking of items, and collection from the end customer upon submission of proof of delivery(POD)
3. Broker
Typically a one-person operation based in a transport area, the booking agent associates himself with 100 to 150 trucks distributed among ten to twenty fleet owners. Brokers charge a nominal price per truck booking based on source, destination and vehicle type.
4. Fleet Owner
Fleet owners often own trucks and employ 1-2 drivers per vehicle. 75% of India's trucking inventory is owned by individuals with up to 5 trucks. Small fleet owners and single truck owners rely heavily on agents to provide loads and maintain a high utilization rate for their trucks.
1. Evolved Government Regulations
Strong expansion, aided by government reforms, in the transportation and logistics sectors is projected to be the primary driver of India's logistics business. GST has transferred all manual transactions to digital form, utilizing e-way bills and Fastags to increase system transparency.
2. Emergence of new players
Numerous start-ups in the logistics sector have aided the growth of the business by introducing a more innovative solution to the market. These firms operate across the supply chain, from discovery to booking, value-added services, and execution, with consignors and truck owners as their target audience.
3. Technology Disruptions
By serving as a significant differentiator, new-age technology has revolutionized the logistics sector. Market leaders in this domain will embrace automation technology to create smart logistics solutions that improve quality, cut costs, and minimize human interference.
Today and in the future, India's requirement is for comprehensive end-to-end logistics solutions. This would include a platform for integrated infrastructure and assets, a platform for integrated services, and a platform for integrated digital infrastructure. The domain is populated by a diverse range of actors, from extremely tiny distributors and importers through medium-sized and large traders to multinational corporations. As a result, the sector will continue to see consolidation, process standardization, technological advancements, and digital transformations for increased agility and integration not just across modes of transportation but also between users and third-party service providers. Customers seek efficient, cost-effective, customized solutions. The emergence of third-party logistics (3PL) and fourth-party logistics (4PL) service providers would address complex supply chain difficulties.